Pavonine Korea's Miracube brand of 3D solutions has come out with an excellent solution for 3D filming. The VF-171P is a 17" monitor with 2 HDSDI inputs for the left and right cameras. That allows you to see what you are filming in 3D while you film. There are grid lines that are adjustable in position, color and even the space between the grid lines.
Also both camera inputs can be flipped horizontally or vertically or even both at the same time. Now filmmakers can enjoy using a wider range of mirror rigs with the Miracube VF-171P 3D viewfinder. The added compatibility is important with the wide range of rigs available on the market.
In addition to the dual HDSDI inputs for the left and right cameras, there are dual HDSDI outputs allowing the user to loop the L/R feeds to other 3D viewfinders or 3D monitors with dual HDSDI inputs.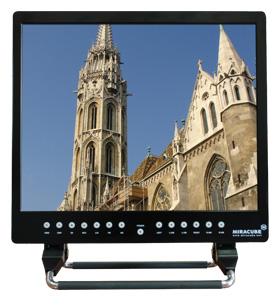 VF171P Front View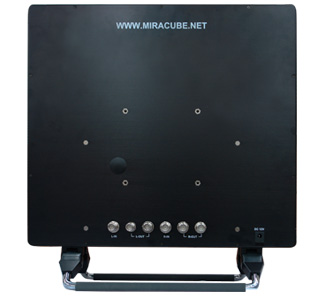 VF171P Rear View
Check out this video by Peter Chang of A&S Broadcast where he reviews the VF171P 3D Viewfinder:
Copyright
ⓒ PAVON
INE KOREA, Inc. 2011. All rights reserved.